2021.11.15
Gold medalist Nagase receives Ibaraki Prefectural Honour Award/Becomes Ibaraki Ambassador
On 12 November 2021, Mr. Takanori Nagase, graduate of the School of Physical Education in 2015, now at Asahi Kasei, a gold medalist in men's -81kg judo at the Tokyo 2020 Olympic Games, was presented with the Ibaraki Prefectural Honor Award.
The award ceremony was held at the Ibaraki Prefectural Government Office in Mito, Ibaraki Prefecture. Mr. Nagase, as a representative of all award winners, said, "I am even more humbled to receive this prestigious award". At the end of his speech, he also expressed his hopes for the future; "I love judo, so I will never forget to thank the people around me, and will continue to strive and grow as a judoka".
The Ibaraki Prefectural Honour Award is the highest award given by Ibaraki Prefecture, and Mr. Nagase was its sole recipient in 2021. The citation for the award indicates, "His performance at the Tokyo 2020 Olympic Games brought great joy and excitement to the people of Ibaraki and enhanced the fame of the prefecture".
Rieko Takahashi, a second year student in the University's Master's Program in Disability Sciences, who won a bronze medal in goalball at the Tokyo 2020 Paralympic Games, also attended the ceremony.
On the same day, both athletes attended the "Ibaraki Ambassador" commissioning ceremony where Ms. Takahashi was appointed as an Ibaraki Ambassador. As Ibaraki Ambassadors, Mr. Nagase and Ms. Takahashi will continue to promote the prefecture both domestically and internationally, as well as supporting the prefecture through various other initiatives.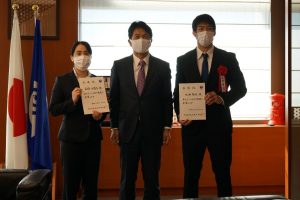 -Picture- Mr. Nagase (right) and Ms. Takahashi (left) pose for a commemorative photo with Governor Kazuhiko Ooigawa (centre)
Commenting on his appointment as ambassador, Ms. Nagase said, "I am very honored to be appointed as an Ibaraki Ambassador. From now on, I would like to convey the charms of Ibaraki to the whole of Japan so that I can contribute to the development of the prefecture".
Ms. Takahashi also commented, "I have studied and grown up during my six years in Ibaraki. I hope to learn more about the unique aspects of Ibaraki, which has become my second home, and inform as many people as possible about them".