2019.12.03
"Road to Tokyo 2020 Coaching Course" was held -Vol.2
To continue from last article, we introduce scenes from the coaching course at our university.
Coaching Course
After the opening ceremony, the course started with participants' self introductions at each lecture room.
Powerlifting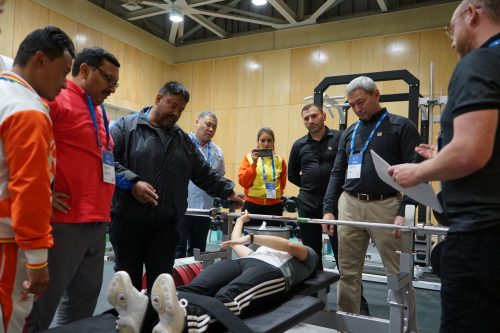 Participants not only learned from the educator but also shared their ideas each other about how they can fix the problems that happen in practical situations such as positioning the arms when they raise the bar, what kind of training is effective.
In the practical skills lecture, they exchanged opinions and checked how the body parts move.












Judo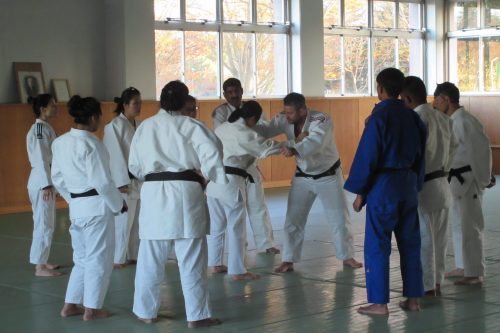 The educator explained key points of how to assemble arms and feet with some photos. Also with videos of the actual international competitions and giving good and bad examples, they learned how to make judgments and how to escort judoka as an referee.
In the practical skills class, one of the pair wore an eye mask and the other taught with voice and body, then they tried each technique. The voices of participants "hajime" (start) and "mate" (wait) echoed in the dojo.















Taekwondo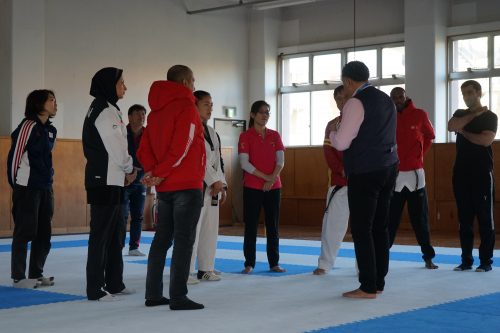 There were some lectures about ethic as well. The educator explained the importance of respecting people regardless of disabilities or language skills as a coach or leader in community. They also had discussions about discrimination, harassment, and unfair play.









Archery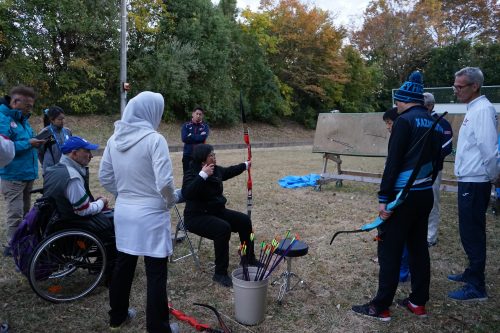 With the cooperation of the university's archery club, they had practical skills classes. Participants communicated and helped each other very well. Although it was cold outside, they had a good time in a good atmosphere.


















Closing Ceremony
In the end of the course, all the participants gathered again and the closing ceremony was held.
Ms. Rita van Driel / Chairperson of AG
Mr. Yasushi Yamawaki / Chairman of JPC
Presentation of Certificates
The educators of each sport made a short speech then called the names of participants in a friendly atmosphere. All of them were handed the certificates by Ms. Rita van Driel.















Ms. Rita van Driel said, "Thank you for coming all the way. You already told me you learned a lot. I really look forward seeing you back. You will be able to encourage athletes. I really hope they will make it for next competition." She said it is most important to bring back what they have learned from this course and from each other, and to improve their athletes' performances.
Mr. Yasushi Yamawaki said, "It is truly great pleasure to meet you all. I believe this "Road to Tokyo Course" will become one of most important sport legacies in the Tokyo 2020. I congrat all of you to participate in this course and complete all program. I believe you will be able to utilize what you have learned through three days' course. You have a mission to train your athletes and also to raise the bar of Olympic movement."
In the end of the ceremony, group photos were taken and the participants enjoyed communications each other.
Three days' course finished and they left the university.









"Road to Tokyo Coaching Course" will be held next year again.
We, Office for the Promotion of Olympic and Paralympic Activities, try to contribute to make the legacies of the Tokyo 2020 Games.