2021.11.25
The 3rd International Colloquium of Olympic Studies and Research Centres Tsukuba Conference 2021
The 3rd International Colloquium of Olympic Studies and Research Centres Tsukuba Conference 2021 was held online on 23 and 24 September. The Center for Olympic Research and Education: CORE was the host institution, and 75 participants from 23 countries took part (see photo). Steering Committee Chair was Professor SANADA Hisashi, the University of Tsukuba.
Associate Professor MIYAZAKI Akiyo and Assistant Professor OBAYASHI Taro, both from the Faculty of Health and Sport Sciences, gave presentations at the conference.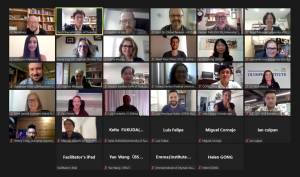 Summary of the conference is from here.
Assistant Professor Obayashi's presentation is from here.