2021.10.21
The Challenges faced by Rieko Takahashi as a Paralympic Medalist in Women's Goalball
On 3 September 2021, the women's Goalball team faced the bronze medal match at the Tokyo 2020 Paralympic Games against the Brazil team ranked third in the world. Rieko Takahashi, a second-year student in the Master's Program in Disability Sciences, at the University of Tsukuba, who played as a "key defender", was relieved to have won the bronze medal.
On 19 October 2021, the Office for the Promotion of Olympic and Paralympic Activities interviewed Ms. Takahashi. She spoke frankly about her preparation for the Paralympic Games, which were postponed due to the COVID-19 pandemic, balancing her studies with being an athlete, her state of mind after the games, and her future.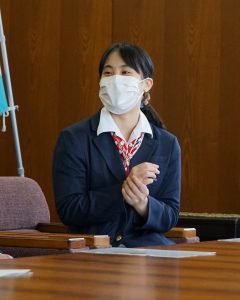 She was confirmed as a member of the Japanese National Goalball team for the Tokyo 2020 Paralympic Games three days before the games were postponed. This date  was also her graduation day from the College of Disability Sciences, at the University of Tsukuba. She recalls "I had mixed feelings".
Many Paralympians were bewildered by the postponement decision. Despite this, she says, "I felt that a year's postponement was a chance to grow even more". She had less experience on the international stage than some fellow players in the Japan national team. Although she was selected for the national team, she was still a "player under review" who might not make the squad. Therefore, when she was selected, she was not only happy but also worried that she would not be able to compete at the Paralympic games.
For two months after the postponement decision she was unable to train with her team-mates. But she was determined to do something she had never done before.
She was born with a visual impairment. She can feel light and read text when there is contrast, but usually uses Braille. She can walk around her house, but she had never run by herself. However, she asked a friend to support and tried running during this period. It was impossible for her to play practice matches against domestic or international players, but she spent time at home watching and listening to videos and doing image training. She also trained hard to strengthen her core to improve her reflexes as a defender.
In April, she entered the Graduate School of the University of Tsukuba, a busy time for adapting to a new academic environment as well as maintaining a training regime. However, she was able to attend the national team training camp, which resumed in June 2020 at the Ajinomoto National Training Centre, without losing her enthusiasm for the Paralympics.
She was beginning to feel confident that she could compete for Japan as a "key defender", but there was always the possibility that the Paralympics would be "cancelled" rather than postponed. Even so, she believed that "even if the Tokyo 2020 Paralympics is cancelled, there would still be Paris afterwards. I concentrated on making myself stronger than ever". She continued to maintain her commitment;
"I want to be stronger and want to compete with the best in the world. Then I want to see what I can do"
Finally, the Paralympics began. The Japan team made it through the qualifying rounds, reached the medal rounds and won the bronze medal. She was happy and relieved but it only lasted a moment. She said, "I and the team need to rethink our defense". One of the appeals of goalball is that players must lie on their sides and defend the goal with their bodies, but at the Paralympics there were several occasions when the ball went over her body and she was scored against. She says, "I need to more strengthen so that I could stop strong shots by my body".
In the future she would like to continue her studies and "become a teacher at a special needs school". At first glance, it might seem that her insatiable quest for strength as a goalball player and her desire to become a teacher are two completely different paths. But, as she explains, "there is an interplay". In particular, winning a medal this time has had an educational impact on children as an athlete.
"When I began goalball, I realized that there are many things I can do, even with a disability. Life is fun. I want children with disabilities to know more about me as an athlete so that they can expand their options and possibilities in life"
Having competed in the Paralympics, and having won a medal, there are things she can tell children with disabilities. Of course, she has a lot to say to children without disabilities too. "Goalball is a game for children with and without disabilities. In goalball, everyone is equal, regardless of their disability, if they are blindfolded with "eyeshades". The goal is "to create a society where people with and without disabilities can mix naturally", and she has come to see goalball as a way to achieve this.
We can imagine Ms. Takahashi continuing to work hard as both a graduate student and a para-athlete, with a strong and dedicated attitude. We hope to support her as she prepares for the Paris 2024 Games.