2021.08.24
Olympic Medalists Mr. NAGASE and Ms. KAJIHARA Return to Univ. of Tsukuba with Glory!
On August 20, Mr. NAGASE Takanori, a gold medalist in the men's 81kg judo, and Ms. KAJIHARA Yuumi, a silver medalist in the women's omnium cycling, visited Univ. of Tsukuba president NAGATA to report on their medal wins at the Tokyo 2020 Olympic Games.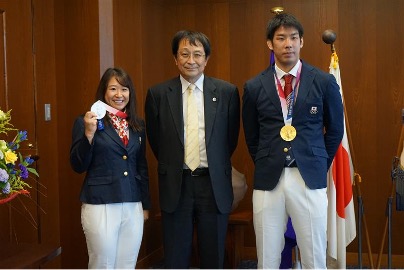 Though Mr. NAGASE graduated from the School of Physical Education, Health and Sport Sciences in 2015, he had been training at the University's dojo until just before the Olympics. The president said, "Even though you won the gold medal, I respect you for your truly humble attitude. It was wonderful." Mr. NAGASE smiled and responded, "Thank you very much."
The president also commented on Mr. NAGASE's second consecutive medal following his bronze medal at the 2016 Olympics, "I hope you will continue to shine brightly."
Meanwhile, Ms. KAJIHARA, a current student in the second year of the Master's Program in Physical Education, Health and Sport Sciences, has been practicing for the Olympics and working hard on her research to earn her master's degree. The president said, "The silver medal might not be 100% result for you, but I think it was a good enough result. As remaining homework, I hope you will try again at next Olympics."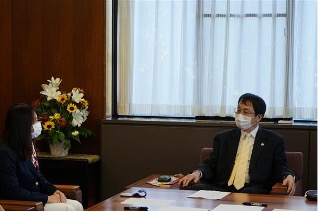 Ms. KAJIHARA also said, "What I learned at the university is connected to my competitive career, and I was able to utilize my research in this race." She also said she will continue to pursue both in academics and sports, and will first focus on writing her thesis to complete her master's degree.
Associate Professor MASUCHI Katsuyuki, who is the head coach of the Japanese women's national judo team, was also present. The president said, "I believe that this result was achieved only with your support. I would like to express my congratulations.