2018.04.11
Signed Basic Agreement for Pre-Olympic Training Camps with Swiss Olympic Association
On 11th April 2018, Kyosuke NAGATA (President of the University of Tsukuba), Kazuhiko OIGAWA (Governor of Ibaraki Prefecture), and Tatsuo IGARASHI (Mayor of Tsukuba City) visited Lausanne (Switzerland), and Swiss Olympic Association, University of Tsukuba, Ibaraki Prefecture and Tsukuba City have signed a basic agreement for pre-Olympic training camps of Swiss teams.
This agreement with the Swiss Olympic Association was realized because of the collaboration between AISTS *and Tsukuba International Sports Academy (TIAS) whose relation has been in effect since July 2014. About two weeks before the Olympic Games Tokyo 2020, teams of athletics, judo, and gymnastics will train at our university.
In addition, they visited Thomas Bach, President of IOC, at the International Olympic Committee (IOC) headquarters in Lausanne, and exchanged opinions on the Olympic Movement and Anti-Doping.
* International Academy of Sports Science and Technology (AISTS): AISTS focused on sport management for postgraduate students and it mainly established by IOC. AISTS have concluded a partnership agreement with "Tsukuba International Sports Academy (TIAS)" established as a degree programme for sports and Olympic as a part of government's "Sports for Tomorrow policy.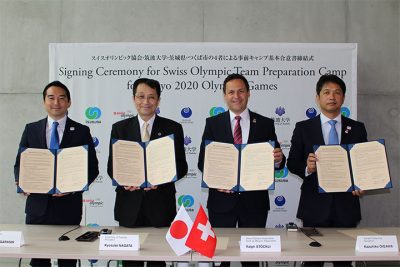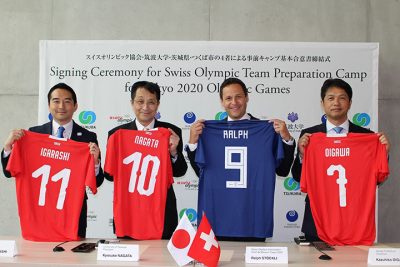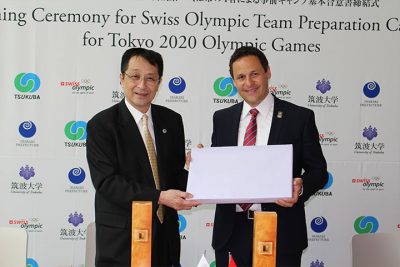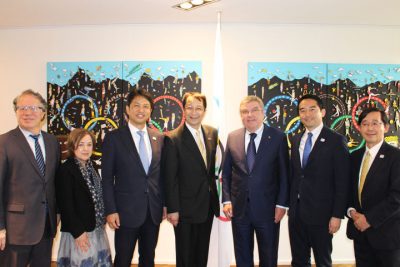 Related News
Officials from the Swiss Olympic Visits the SPEC