2017.12.15
"Let's get excited from Tohoku! Olympic and Paralympic for everyone!" was held
To spread the Olympic and Paralympic movement in Japan, the forum, "Let's get excited from Tohoku! Olympic and Paralympic for everyone!", was held.
For all the participants, this forum was a good opportunity not only to enjoy the actual games with athletes, but also to know the real activities organised in school.
This event is a part of the nationwide deployment project of Olympic and Paralympic movement, commissioned by Japan Sport Agency.
ABOUT
Date: 21. January. 2018 (Sun.) 13:00 – 17:00
Place: Hotel Mielparque Sendai
Events:
– Opening
– Practical reports by schools promoting Olympic and Paralympic education
– Lecture by Olympian and Paralympian (Kenta Chida and Reo Fujimoto)
– Play fencing and boccia
– Closing
This forum is organised by University of Tsukuba (Centre for Olympic Research and Education; CORE) and commissioned by Japan Sport Agency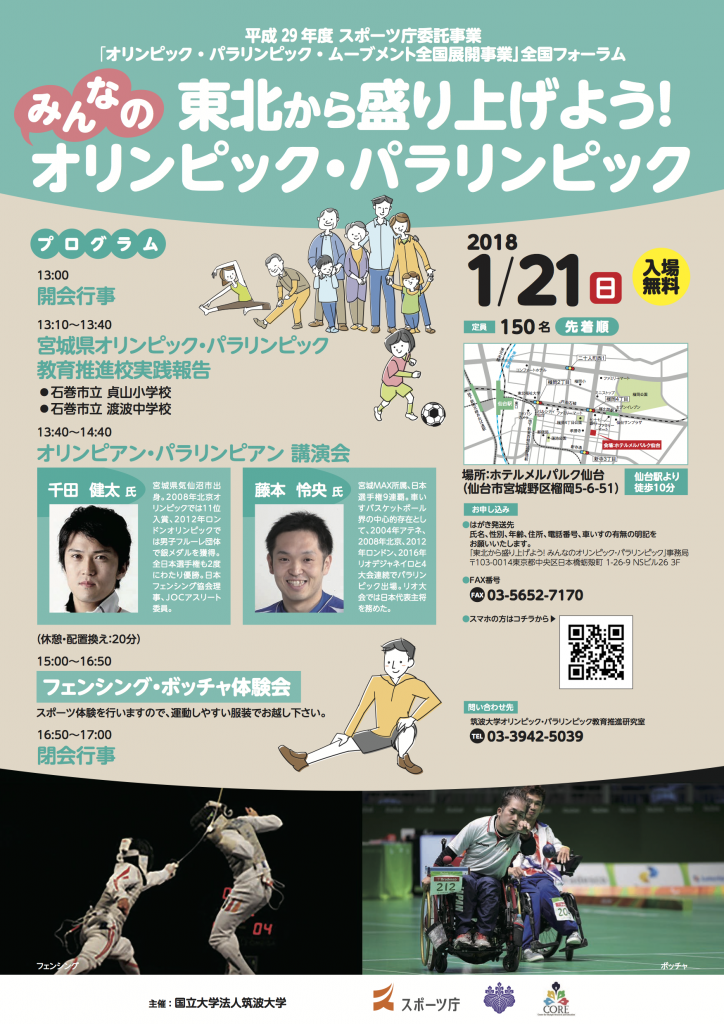 関連記事

Office for the Promotion of Olympic and Paralympic Activities University of Tsukuba (OPOP)
筑波大学オリンピック・パラリンピック総合推進室
1-1-1 Tennodai, Tsukuba, Ibaraki, 305-8577, Japan
© 2017-2020 Office for the Promotion of Olympic and Paralympic Activities